Local Efforts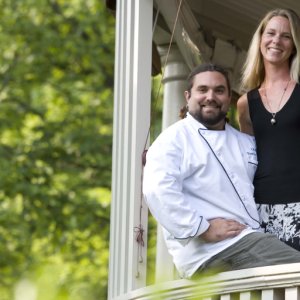 Betsy and Damian are members of Slow Food USA, Local Harvest, Collaborative of the 21st Century Appalachia, Buy Fresh Buy Local WV and many local organizations working toward local food production and consumption. Damian has always utilized the freshest ingredients by working closely with local farmers & growers, family gardens, a large organic garden at their private residence as well as a bountiful herb garden outside the front door of Lot 12. He believes working closely with local growers encourages sustainable agriculture, provides the community with a more healthy & fresher food, and ultimately leads to a stronger local economy.
We are always looking for new suppliers of great local produce, veggies & proteins. Contact Damian for details.
A Few of Our Local Partners
Berkeley Springs Farmers Market
Features fresh produce from local farmers and a Lot 12 Booth which serves lunch from 10am-2pm downtown on Fairfax Street. The market provides local growers and vendors a venue to sell their produce and handmade items directly to the customer. The Market started with just three vendors in July 2002 and has grown to over 18 vendors. They have developed a broad range of products and continue to expand. They have also created a number of special events to make the market fun for everyone. The local Master Gardeners will also be providing educational programs throughout the market season. They also partner with the West Virginia Department of Agriculture and accept "Seniors Farmers' Market" coupons. Operating April through December, Sundays from 10am-2pm in downtown Berkeley Springs!
http://www.berkeleyspringsfarmersmarket.com
Pipe Dreams Fromage
A picturesque goat farm in the rolling landscape of Greencastle, Pennsylvania. Lot 12 has been a supporter of this small, eclectic farm for over a decade. Much of their products are sold directly to the finest gourmet restaurants in the DC Metro area and they have been featured in national magazines and publications praising their artisanal approach to fine cheesemaking!
Greencastle Coffee Roasters
A unique establishment that provides its patrons with a variety of traditional quality items. They believe that simplicity is the essence of intelligence; and since they are an individual establishment, they are able to keep things simple and authentic. They achieve this standard of quality by using only the methods which have withstood the test of time.
Whether you like your coffee black and strong or sweet and light you can count on them to provide you with the finest and freshest.
They roast all coffees in our Victorian Era antique "Royal" coffee roasters on an "as needed" basis. Their Victorian roasters date from the late 1800's – from an era when 'fresh' meant newly made: when absolute craftsmanship and individual pride were tradition. They preserve this tradition by bringing you fresh roasted coffees in the spirit of that era.
Mail order and on-line orders available (ask them for the secret Lot 12 Blend!)
Glascock's Produce
Owner operated sustainable farm located in the Eastern panhandle of West Virginia. In addition to growing nearly every vegetable and fruit you can imagine, they are also renowned for their wide variety of specialty items such as baked goods and preserves, all handmade using their own homegrown ingredients in their own commercial grade kitchen at home. They are also the 2011  West Virginia Conservation Farm of the Year, stop in and say congrats & thank you for caring for the land!
http://www.glascocksproduce.com/
Mock's Greenhouses

Mock's Greenhouses and Farm are regular vendors at the Berkeley Springs Farmers Market. With over 20 hydroponic greenhouses supplying major wholesale accounts like Wegman's and WholeFood's, this grower is worth a visit.  So, please stop by their tent at the Berkeley Springs Farmers Market every Sunday from 10am-2pm, April-November in downtown Berkeley Springs!