About Lot 12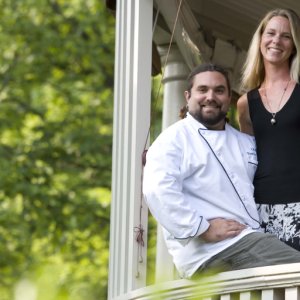 "Berkeley Springs" was originally established as the Town of Bath by the Virginia Legislature in 1776, the settled area around the famous warm mineral springs began developing several decades earlier. Always a resort town, the compact downtown district is today a charming area filled with interesting shops, inns, cafes and spas still centered around the warm springs. Only a few street names and minor boundary adjustments have occurred over the centuries. Lot numbers from the first land sale are still used on deeds, and plaques note the original 1777 lot owner. Lot 12 Public House was built on the original Lot #12 within the Town of Bath.
In 1999, Chef Damian Heath and his wife Betsy opened their new restaurant in a cozy house that was built in 1913 on lot no. 12.
Damian, the son of long-time Berkeley Springs residents, artists Jan and Jonathan Heath, prepares seasonal upscale comfort cuisine, utilizing local sourced farm fresh ingredients with a little Italian heritage for complexity and flavor! Vegetarian choices and gluten-free dishes are always available!
A wide selection of distinctive wines and fine spirits are featured as well as local/regional craft brews. The cozy bar is a regular meeting spot for locals, friends and guests while the open air porch allows for a leisurely relaxed dining experience.